USTA Serves is the National Charitable Foundation of the USTA.  It is a not-for-profit organization that is dedicated to improving the quality of life among our nation's youth.  USTA Serves mission is to support, monitor and promote programs that enhance the lives of underserved youth through the integration of tennis and education.  A goal of USTA Serves is to encourage children to pursue their goals and highest dreams by succeeding in school and becoming responsible citizens.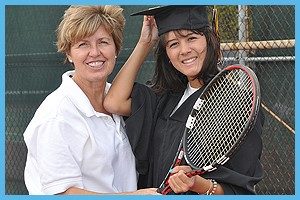 Each year, the USTA Foundation awards college scholarships to deserving youth who have participated in USTA National Junior Tennis & Learning (NJTL) and/or other organized youth tennis programs. To date, the USTA Foundation has awarded more than $5 million in college scholarships and player incentive awards to more than 1,000 middle school students and high school seniors.
The 2017 Scholarship Award application is now closed. Click here for the list of 2017 Scholarship winners.
The 2018 scholarship application will open in late December 2017 or January 2018 and close at 11:59 pm on February 26, 2018.  Click here for more information on USTA Foundation Scholarships.
For additional information about submitting a scholarship application, please email us at scholarships@usta.com.