RIC's Jenna Lisi, Alex Bourque named USTA Rhode Island's
2020-21 College Tennis Players of the Year
Anchorwomen's Lisi repeats as Jill Craybas Award recipient, Bourque a first-time recipient of the Andy Chase Award, from the USTA state association.
PROVIDENCE, RI – Rhode Island College sophomore Jenna Lisi and junior Alex Bourque have been named USTA Rhode Island's College Tennis Players of the Year, for the 2020-21 school year. Lisi, from Cranston, is receiving the Jill Craybas Award, as the state's female college player of the year. Bourque, from North Smithfield, earned the Andy Chase Award as the Ocean State's top male college player.
The awards go to the top male and female college players from Rhode Island, who do not necessarily play for an in-state school.
This was a highly unusual year for college sports due to COVID-19. The Ivy League canceled its entire schedules due to the pandemic, and most other college leagues played abbreviated schedules. RIC excelled on the courts despite the imposed limitations.
Both 

awards 

recipients are from RIC, who completed historic years with undefeated regular seasons under coach Adam Spring. Lisi, playing number one singles and doubles, and led the Anchorwomen to their fourth consecutive Little East Conference championship and NCAA tournament berth, earning a first-round win over Farmingdale State. Bourque, also playing in the top positions, helped RIC to its first-ever LEC regular season title.
"It was a very strange year with abbreviated schedules, players wearing masks and not every team even playing," said Douglas Chapman, USTA Rhode Island's President and CEO, "but RIC made the most of it, led by Jenna Lisi and Alex Bourque. They are worthy recipients of the awards named after Rhode Island's most successful college players of the past, which have become a prestigious honor for the players of the present."
Both awards will be presented at a ceremony yet to be finalized.
JENNA LISA (RIC) – A sophomore, Lisi is the first repeat recipient of the Craybas Award. That should come as no surprise as she also repeated as the LEC Player of the Year and LEC Tournament Most Valuable Player.  She swept all of the LEC awards as a freshman, also collecting Rookie of the Year honors.
She finished the season 9-0 at No. 1 singles and 8-1 in doubles. She did not a lose a set until bowing in doubles against eventual NCAA champions Emory in the second round of the NCAA Division III team tournament. She is 23-1 in her singles career and 23-2 in doubles.
Lisi earned All-State and All-Division honors and won four team state championships while at La Salle Academy, where she served as a team captain. She is an early childhood education major.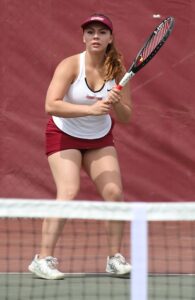 ALEX BOURQUE (RIC) – A junior, Bourque played No. 1 singles and No. 1 doubles, leading the Anchormen to a 6-0 regular season record and the top-seed in the LEC tournament. Bourque finished with a 5-2 record in both singles and doubles. RIC ended up just shy of an NCAA tournament berth when they were upset 5-4 in the LEC final by Western Connecticut, a team they had defeated twice during the season.
Bourque also played in the top singles and doubles spots for the Anchormen as a sophomore, and was a LEC second team all-star in doubles as a freshman.
He served as a team captain in both tennis and cross country while at North Smithfield High School. He is a medical imaging major.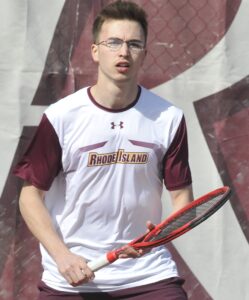 ABOUT THE AWARDS
JILL CRAYBAS –A native of East Greenwich, Craybas is the most successful tennis player in Rhode Island history. She was a RIISL high school state singles champion for the Lincoln School and captured the 1996 NCAA singles championship for the University of Florida, when she was the National College Player of the Year. She is the only player in NCAA history to be a member of Division I championship teams at two different schools (Texas and Florida). A two-time SEC Player of the Year, she finished her college career with a 124-18 record. A Florida Gator Hall of Famer, she played nearly 20 years on the WTA Tour. She won the 2002 Japan Open and five doubles titles on the main tour. She was ranked as high as #3 in the US and #41 in the world. A regular for the US Fed Cup team. Her most notable result came at Wimbledon in 2005, where she defeated Serena Williams and Marion Bartoli.
ANDY CHASE –A native of Cumberland, Chase was the US National 16 & Under Hardcourt Singles Champion and a two-time national junior doubles champion. He won two RIILS state singles championships and team championship for Cumberland. He went on to play at Stanford University, where he was a teammate of John McEnroe. The Cardinal won three NCAA Division I team championships during his four years in Palo Alto, California.

Rhode Island College vs MCLA. RIC, MEN'S TENNIS.



AWARD RECIPIENTS
JILL CRAYBAS AWARD
2021 – Jenna Lisi (Cranston), Rhode Island College
2020 – Jenna Lisi (Cranston), Rhode Island College
2019 – Julia Pezzuco (Johnston), Western Carolina University
2018 – Natalia Pezzuco (Johnston), Union College
2017 – Evelyn Miller (Smithfield), Colby-Sawyer
2016 – Sadie Campanella (Chepachet), Rhode Island College
2015 – Rebecca Curran (Rumford), Williams College
2021 – Alex Bourque (North Smithfield), Rhode Island College
2020 – No award (COVID-19 cancels season)
2019 – Matt Kuhar (Smithfield), Bryant University
2018 – Matt Kuhar (Smithfield), Bryant University
2017 – Matt Kuhar (Smithfield), Bryant University
2016 – Eric Laboissonniere (Cumberland), Roger Williams University
2015 – Matt Kuhar (Smithfield), Bryant University
USTA RHODE ISLAND is the governing body of tennis in the state, and one of seven state associations that make up USTA New England, one of 17 sections in the country. Its mission is to promote and develop the growth of tennis in the Ocean State.