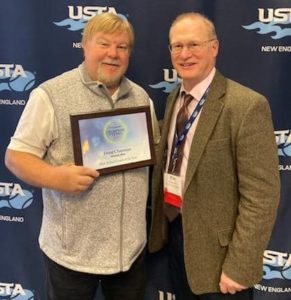 USTA Rhode Island President & CEO Douglas Chapman was presented with a 2019 "Champions of Tennis" award as the National High School Coach of the Year by Tennis Industry magazine at USTA New England's Awards Luncheon at Tennis Weekend at the Boston Marriott Newton hotel. The award, which was a surprise, was presented by Tennis Industry magazine's Editor-In-Chief Peter Francesconi. It will appear in the magazine's Januray issue.
Doug Chapman will begin his 42nd season coaching the boys tennis team at Somerset Berkley Regional High School in the Spring of 2020, and his eighth year as the head women's tennis coach at the University of Massachusetts Dartmouth. He is the all-time winningest tennis coach in Massachusetts Scholastic history with 596 victories, with nearly 700 wins overall. Chapman has twice been selected New England High School Coach of the Year and twice was named one of 10 coaches to the USTA National High School No-Cut Coaches All-Star Team.
Doug Chapman has been inducted into five Hall of Fame, including as an individual and with his 1983 and 1984 teams into the Somerset Athletic Hall of Fame. He was also inducted into the Roger Williams University Athletic Hall of Fame with his 2002 champion women's tennis team. And he was a 1995 inductee into the New England Soccer Hall of Fame.
In addition to being president of USTA Rhode Island, he is also an officer and secretary of the USTA New England board of directors. He is chair of New England's State Association President's Committee and Grants Committee, and serves on the Officials Committee. He is also a USTA and Intercollegiate Tennis Association certified referee and official, and a Professional Tennis Registry certified pro.
Chapman has been a USTA national coaches trainer and has been a big proponent of transitional learning for youth in tennis.
Link to The Spectator:
https://www.southcoasttoday.com/special/20191120/chapman-receives-national-high-school-tennis-coach-of-year-award